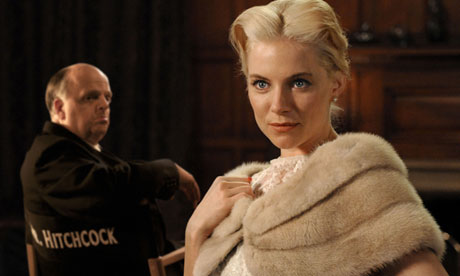 THE GIRL, starring SIENNA MILLER and TOBY JONES on HBO
"I hope that young women who do see this film know that they do not have to acquiesce to anything that they do not feel is morally right or that they are dissatisfied with," she said. "I can look at myself in the mirror, and I can be proud. I feel strong. And I lived through it beautifully.
From an interview
with the Huffpost TV Tippi Hendren said also that in the movie there wasn't time to show the wonderful people I met and the wonderful discussions Hitch and I had. Mostly the great gift he gave me being not only my director but my drama coach,"
Tippi lost her admiration for the man, if not the artist, when Hitchcock kept punishing her for rebuffing his advances.
"I think we're dealing with such a devious mind, one of genius, of incredible creativity."
With the pair's irrevocable rift after "Marnie," Hitchcock refused to let her out of the seven-year contract she'd signed. That allowed him to quash her shot at other big films, including Francois Truffaut's "Fahrenheit 451" (leaving the role to Julie Christie) in 1966.
Tippi never played the what-if game, instead she channeled her energies into family and her dedication to helping animals, including founding the Shambala wildlife preserve in Southern California.
"He ruined my career, but he didn't ruin my life," Hedren said, who has worked regularly in TV and appeared in some films, even if now she become such an icon actress.
A tribute to such an Hollywood Legend, Touchè Tippi !
THE GIRL is playing on HBO on demand, I really enjoyed it.
And it made me wanted to see all Hitchcock movies again !