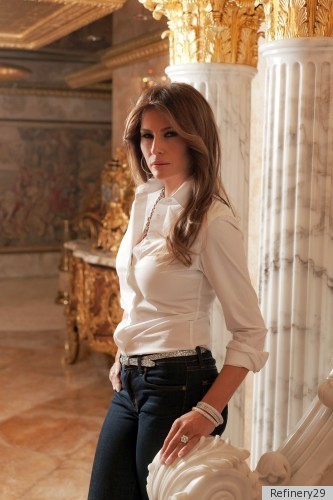 Melania Trump in JBrand jeans and Melania Jewelry.
Among her beauty secrets: to run on the treadmill and she likes tennis.
"My most recent healthy obsession is to make myself an energy-boosting smoothie in the morning. I mix banana, ground flax seeds, liquid omega-3, vitamin D, lemon, fat-free yogurt, and orange juice to start the day off right and fill me up."
She is always posh with simple pieces, like this white bikini.
Recently in the pages of Philadelphia Style Magazine
Melania looks divine in white, I love the animalier touch

.
Melania invited Refinery29 into her home,
this lush Louis Vuitton Jewelry Case
is filled with Melania QVC goodies.
A pair of Manolo, She adores Manolo !!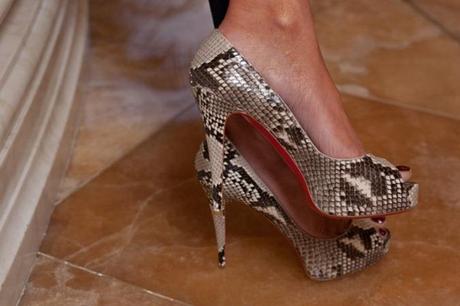 Also Louboutin is among her favorite brands of shoes...perfect pedicure with Rouge Noir Chanel nail polish.
Perfect manicure, always natural color
Beautiful and Intelligent she is always perfect, very chic and detailed oriented.
I keep my hair beautiful thanks to…
YAROK serum, it gives back nutrients to my hair that other products have taken away.
My favorite skincare products are…
A combination of vitamins A , C , E and oxygen cream. This gives my face a natural healthy glow.
I get my eyelashes looking long, full, and sexy using…
DiorShow Mascara. I love it!
The best lip-gloss I ever owned…
Lancôme "Juicy".
My signature fragrance is…Dolce & Gabbana
The one beauty product you will always find in my purse is…
Mac Studio Fix Powder.
My number one beauty secret is…
Plenty of sleep!
The celebrity I find most beautiful is…
My baby boy Barron. He is so handsome; I can't take my eyes off him.
My favorite way to relax…
The city I love the most…
New York, Paris, Palm Beach, LA…I love them all!
One or two things some people may not know about me…
I studied architecture at University in Slovenia.
I am currently working on…
Photos and interview courtesy of Melania Trump, Refinery29, Vanity Fair Italy, Beauty Secrets.